I meant to have this out before winter, but there's still plenty of time to get started on some new ways of keeping active with the kids and for yourself before fall really sets in!
The battlefield we respect, we cater to, and we ride has a lot to offer- long, shade covered trails through natural splendor, gentle hills, and plenty of historical monuments.
We ride the park, we walk it, and occasionally we Pokemon Go it.
Fitness and lifestyle are important here at Battlefield Outdoors- and so I don't feel too bad recommending some apps that make the journey to a well balanced life a bit easier, or way more fun. I know some older folks think we look too much at our cell phones nowadays, but the problem isn't the phones themselves, but rather what we're looking at on them. Instagram, Facebook, and Twitter are for finding communities to share ideas and pick up new things, be we use them too often for vanity. Here are a few apps aimed at self improvement, motivation, and cultivation!
Press Six to Start has two fun apps for when you're off your bike and on your feet. Hundreds jog, walk, and run the battlefield every day! Nothing makes the run smoother than kickin' tunes....except maybe Zombies.
Zombies, Run!! is a fitness app that combines the audio-book/podcast with a fitness challenge. You are dropped into an acoustically wonderful world where mankind is in ruins, with pockets of humanity survive in isolated towns, relying on scavenging to keep civilization going. You are Runner #5, the new runner at Abel Township. As someone who can run faster than Zombies can shamble, it's up to you to leave the safe walls of Abel to get the supplies they need to survive. Zombies, Run!! is a 5k running trainer that intersperses story elements into 35+ minute running sessions, and you've got to maintain a steady run or else you'll be zombie chow.
The best part is how it integrates with your running tunes- you can make a playlist in your favorite music app (IOS and Android) and then open it in Zombies, Run!! to play while you workout. It will pick songs and order them to fit within the story's events- and you can expect a big story update when your song begins to fade out, and then kick off the next track as soon as it's over, kind of like a post apocalyptic DJ. This seamless integration of your running tunes really helps keep you immersed in the world. The characters are interesting, lovable, and like all Zombie stories things escalate dramatically to keep you on the edge of your running shoes.
For those who have never run a day in your life, fret not! They have a 5k training app that acts as a kind of Episode Zero, with the same great voice acting and a workout regimen that will have you running 5ks on the regular, all with the same playlist DJ feature as the main game.
For those who like to take it easy, their other fitness game I recommend is The Walk. It is just as it sounds, a game about walking. Best described as an audio-book or radio play where walking turns the pages and advances the story. It's more story based, with each walking session being an episode of sorts. The game lets you tailor your sessions to your walking habits, and you can pick your "route" through the games virtual walking path to set how long you'll be walking. The walk isn't about how fast you run, but rather how long you walk. It works outdoors or on the treadmill, and can track your steps with your Bluetooth pedometer, smart watch, or with your phone itself in your hand or pocket. When you've walked a certain amount of minutes, you will unlock a new story audio to listen to. You can set the app to automatically play the next story section when you reach each minute milestone, and just like Zombies, Run!! It will play over any music you're listening to.
The game's story is brilliant as well, a case of mistaken identity has you handed a package, just as terrorists detonate an EMP over a crowded train station. Now you've got to somehow get across the country, one step ahead of terrorists and a conspiracy- all without a car. So you'll have to walk. There's extra emphasis on story and character, and you meet all sorts of colorful characters as code name "Walker" in your long trek through the UK, a walk that can take up to 500 miles!
The game can be played in the background while you use other apps, or just kept in your pocket while you enjoy the outdoors. For extra fun, the game keeps track of how far you've progressed with a gorgeous faux-Satellite map of the part of the game world, and you can click on collectibles as your virtual self walks near. There are optional detours that increase the length of your walk, that give you special bonuses and extra story elements to listen to.
Both Zombies, Run!! and The Walk are very, very British- you'll hear all the accents of BBC-land but it's a large part of their charm and help immerse you in the setting. Both have free demos and access to the main content as well, and for what parts do cost money they're cheap. Both also let you share your progress and show a map of your route to your friends and family. There's a strong online community as well and unlike many fitness apps it's easy to run/walk with your friends.
Pokemon Go remains the king of kid oriented walking apps- rewarding your kids for walking, remaining active, and exploring the world around them. It's perfect for the Chickamauga Battlefield with its numerous landmarks and monuments that serve as "Poke-Stops". These Poke-stops are where they can obtain free items to play the game. I've done a bit of it since I've been here and found that not only are the Civil War monuments all Poke-stops, but all the paths and trails are all clearly marked, and each of the stops have the historical information of the monument inside of the app itself! Never thought I'd be learning interesting information about the battles fought here while playing Pokemon Go! These stops refresh every 5 minutes or so, so even if your kids aren't up for walking 10 miles, a simple loop will still net them all the monster catching implements they need coming and going. You can actually let the kids do the navigating- as they can use the game's in game over head map to chart a course to the nearest monument, or to where a prized monster can be found.
Niantic games recently released a Harry Potter game in the same vein, but I can't really recommend it- it's much more hand on, requires a great deal more messing with menus and has long, showy animations. it's fun if you're at a mall, or maybe in the city, but only gets in the way on the trail. Pokemon Go benefits from minimalism and background- you can activate a setting that tracks total steps out of the game, so there's a reward for walking a great deal of steps outside of the game as well.
I recommend getting your kids the Bluetooth Pokeball accessory- it will allow them to catch Pokemon without having to have their phones out 24/7, so they only have to pull them out to check the map. That way they can appreciate the scenery and the simple pleasures of the walk as well. It is also one of the best apps to use while cycling as well- as long as you're riding under 15 mph it will track your activity. You can just zip from landmark to landmark, and all the best Pokemon tend to gather around them as well- so you can encourage your children to keep going to the next stop, with fun rewards for their game. It has connectivity as well with the Switch Game, "Let's Go Pikachu/Eevee" so they can play at home, and get a good workout away from home. It's a gateway fitness app for getting your kids and loved ones to say "Just a little farther! Just a little longer! Just one more!" It's the first step to getting them willing to try and push their physical boundaries.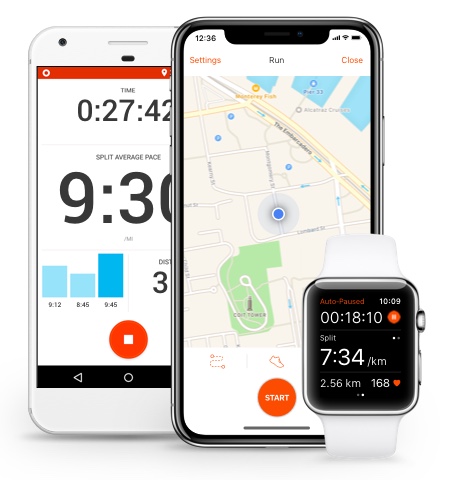 You probably already know about Strava- we're a bike store after all, this social networking app that works on Android and IOS phones, connects to your GPS+ Fitbit, tracks your runs, rides, and swims, and lets you share info with others. It integrates well with every other app mentioned above- it offers lists and suggests popular routes others in your area enjoy. Most of the fancier bike computers we sell here in the shop explicitly reference it on the box. Keeping track of your workouts is key to seeing your personal growth and getting the confidence to push yourself just a little bit harder every day.
Welp, these are mine! Feel free to comment with any of your own personal favorites, or routines. I'd also include Audible, because listening to a podcast or audiobook while out on a long walk is a great way to liven up a routine jog.