Back when I was in college, I missed out on a lot of things. Poor, isolated, and sticking mainly to the library and my dorm room, let's just say I missed out on any social sports beyond fighting game tournaments and Halo.
I was aware of something called "Ultimate Frisbee", because you couldn't leave your dorm room without seeing a flyer stuck somewhere calling for signups, teams, whatnot. Even if you stayed in your dorm room in fact, RA's were sliding paper under doors.
So naturally, when I was back home and found a strange multicolored  disc on the side of the road, I gave it to my little brother, who was just starting college. "Here." I said, "You can have this to play Ultimate Frisbee."
And my brother looked me in the eyes and said "Actually Jeremy, that's a disc golf disc, but thanks bro!"
I was like "Wat?"
Little did I know that within a year or two, I'd not only be selling disc golf discs, but also work at a store that has one of the largest selections across multiple brands in the entire state.
I'm still a little fuzzy on the details- I understand golf, I know how to throw a disc, but the word "hyzer" and any derivative of that word with an an or anti or whatever goes over my head. Well, it would but...
I hope I can catch on to Disc Golf, and you, lovely readers, can follow along. I've a degree in writing, not in sales, so if I can write things about discs, bikes, and kayaking, I'm kinda/sorta living the dream. 
I bought our very own Innova Starter Set: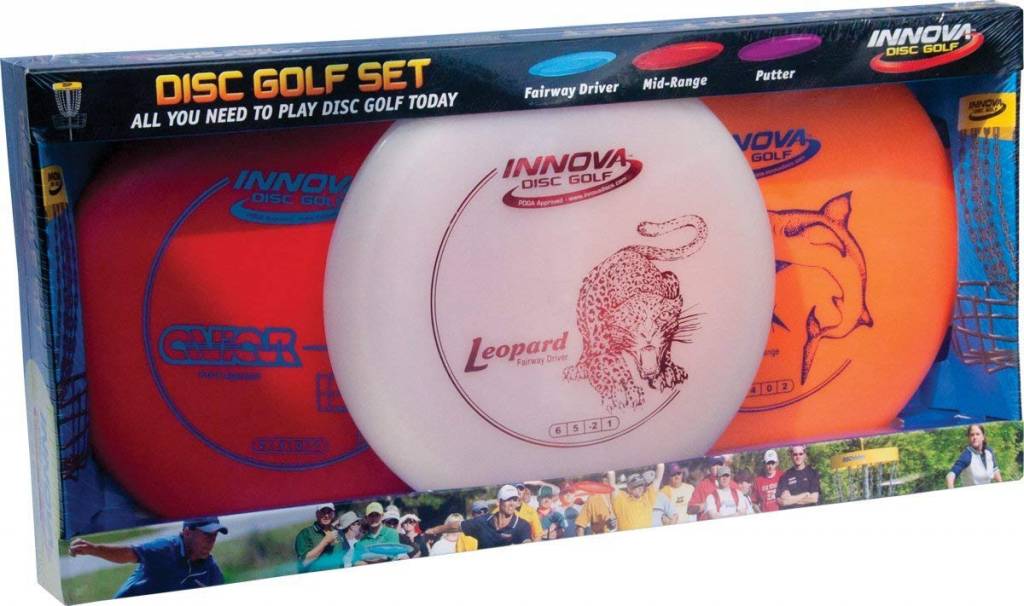 And it came with the a driver, putter, and mid. Actually, it came with two "mid drivers" and a putter, but I think I'm splitting hairs on that. Then I bought myself an Innova Katana, mostly because it was called "Katana" and a picture of a katana on it.  Also because due to carelessness or a customer trying to hide it like a squirrel in winter for later it had been hidden in one of our trikes, and I couldn't be bothered to return it to the racks.
So now, with a new set of 4 discs, I also bought a bag. This was mostly to test out our ordering system for Google Analytics, but also because not only are disc golf bags rugged, sturdy, and full of amenities for the disc golfer, but they are also useful for a lot of not disc golf things.
I bought our only Lattitude64 slim bag, but don't hate me- we can always order more, and we have plenty of Innova ones.
The nice manufacturing of this tells me it's gonna last a while, and bottle holder is a nice touch. As a cyclist, this could easily be strapped to the back/front of my bike and double as a bottle holder and snacky storage, or get me to the golf course with the full set.  I joke a lot around the shop that they're over-glorified lunch boxes, but add a bit of foam on the sides and it could probably keep a salad crisp for a while.
My uncle, owner, manager, and general cool guy, told me to try out Jack Mattox park, which has a 9 hole disc golf course and is great for beginners. It's not too far from our store, so I could head there after work instead of going home and playing video games/Netflix. Or both! 
We also set up shop on weekends at Camp Jordan, which also has a fine Disc Golf course, and a stack of discs for sale. Rent a bike, buy some discs, all good stuff. I'll have to try all that later.
Finally, we're coming close to the weekend, and I was also going to post about how I was going to get my feet wet on a kayak- as we have a demo day this weekend with all of our best kayaks. Try before you buy, see what each brand offers, etc. But it's also Fathers day weekend, and I was going to go see my pops in NC. So tell you what, how about you guys pay us a visit this Demo day with your dads? (Or equivalent father-figure analogue)  I bet they'd enjoy it! 
It's at LaFayette City Lake in LaFayette, Georgia, June 15th, at 10am-2pm. More info here on Facebook!
Anywho, there shall be more coming, especially after my first course!
If you'd like to reach me, I'm at on Reddit at BFODCycleShop. I'm also sometimes behind our instagram and facebook posts, so you can contact me there as well. I also have this weird thing called a Fy.use with awesome 3D images of stuff at our store, in the Chattanooga/Catoosa County area, and stuff I just find neat. Eventually, eventually, Youtube too! (no link yet, I'm still editing videos)