Kayak Rentals
Battlefield Outdoors is not only an exclusive dealer for the North Georgia region/Chattanooga region, but we also rent our kayaks on the Chickamauga creek and abroad. 
We offer a la carte rentals to mix and match with whatever set up you need to get on the water. Whatever your needs, we will strive to accommodate you. 
Pick and Take Rentals: We offer a daily rental for $60 a day of any of our kayaks, ranging from the whitewater Liquid Logic XP Remix, to the high-end Titan Native fishing kayak. Show up anytime between 10 am and 6 pm to pick it up on your truck or trailer, and drop it off when you are done. We call this "Pick and Take." We offer a huge set of equipment and accessories for fishing on the water, as long as you bring your own rods! Like what you rented? We can take the rental fee as a deposit towards ordering you a brand new boat straight from the dealer!
Shuttle Service: 
We apologize for any inconvenience, but we are canceling Shuttle services for the time being, as the recent Covid issues, on top of physical and professional difficulties in managing the shuttle rides. We are still offering Kayak rentals and you can pick and take any kayak we have for the same fee, but we will not be shuttling small groups for the time being.
We still offer some services- we have an emergency pickup if you have trouble while renting our kayaks and need an immediate pick up- we will send someone out to pick you up and drive you back to your truck, but we cannot perform a full trailer shuttle service at this time.
We can haul you and your kayak out to West Chickamauga creek for a leisurely 3-hour ride, with the price ranging from $30 to $50 depending on the drop off point. Then we will pick you up and bring you back to the store. We can also just shuttle you and your boats back to where you parked your car at one of the drop off points as well. Our trailer can hold up to 6 kayaks, please contact us ahead of time to coordinate for parties of 7 or more.
If you combine the two, we offer kayak rental and shuttle service to West Chickamauga creek for $30 to $50, with us renting you one of our kayaks and dropping you off at a local drop off point, then pick you back up when you are done. This is a great way to have a no-hassle kayak tour through the historic battlefield of Chickamauga, and test out some of the high-quality boats in our store. This is the full ride!
We can mix and match too, easily shuttling your kayak and letting your friends and family rent one of ours as well.  All rentals come with personal flotation devices, helmets, and paddles as needed.
We do not offer shuttle services other than pickup from the creek after 3 pm. Furthermore, we can only handle three groups of shuttles per day- please reserve your trip in advance by calling us over the phone at (706) 841-0040. We also require either our manager or owner to be present for all shuttle rentals, and so calling ahead is the best way to ensure we will be offering shuttle service that day.
Demo Days:
Every third Saturday all Summer, Battlefield Outdoors offers an exclusive chance to test several of our high-quality major brand boats for the low, low price of free! Ranging from the Liquid Logic whitewater boats to the heavy-duty fishing kayaks of Native, we've got them all for test drives in a local lake or bay. Try out our paddleboards, our $2.5k pedal drive kayaks, and try before you buy!  We have experts with feet on the ground at all events to answer questions, teach proper paddling technique, and help you find the right boat for you. 
The Battlefield Outdoors Lounge: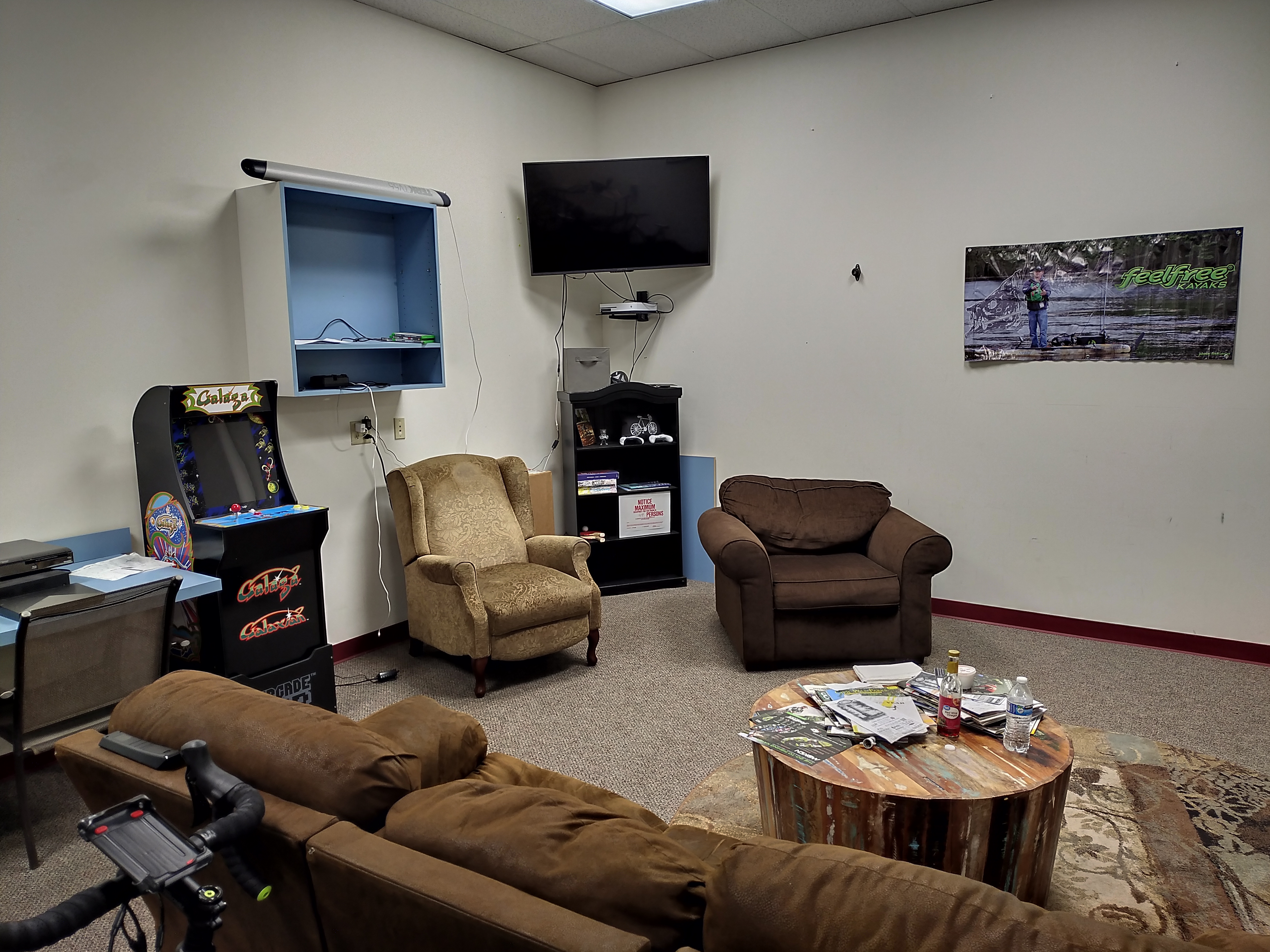 For before and after your kayak adventure, or after a long bike ride through the battlefield, why not rest and relax in our lounge? We've got a widescreen TV with local channels and Google Chromecast, a complimentary Keurig coffee machine, and a comfy couch. We offer soft drinks, bottled water, energy bars, and protein snacks. Note the Galaga machine too! We are also next door to the famous Park Place, one of the best home cooking restaurants in all of Georgia. 
The lounge can also be reserved as a meetup area for large groups.
West Chickamauga Creek
Chickamauga Creek is a calm, leisurely waterway that is perfect for beginners or those who just want a leisurely cruise. The average trip takes up to 3 hours and has a great trip through the natural beauty of North Georgia and the historic Chickamauga battlefield. We have multiple drop off and pick up points, but we mainly pick up around West Chickamauga creek, and within a 35-minute drive from our store. Feel free to call us and ask about the creek and the drop off points anytime for more information. Cattoosa County Recreation's Page on West Chickamauga.  RootsRated's info page.
Popular Kayak Destinations:
Harrison Bay
Popular locales to take rented boats include Harrison bay, an extension of the Tennessee River. Popular with fisherman, and with numerous spots to unload your kayak into the water, it's where we often take out our kayaks for demo days. The bay is open to boats of all kinds, but kayakers should stick to off to the side areas so they aren't knocked around by speed junkies in motorboats.